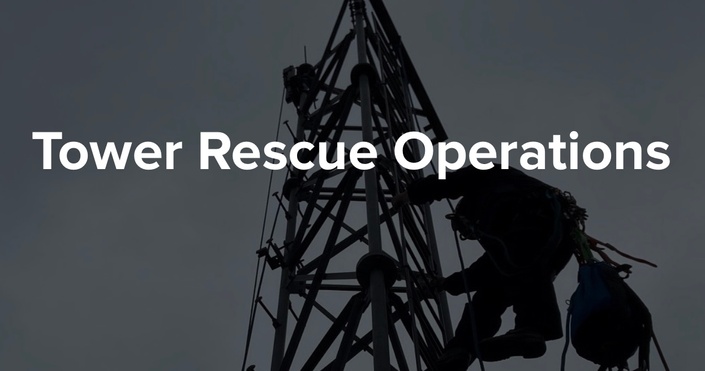 Tower Rescue Operations
Blended Learning Course
Note: Enrolling on this page is only for the online material. Check out open enrollment offerings or contact us to learn about available practical skill sessions.
Course Description:

Tower rescue incidents include rescuing individuals from cellular, transmission, and other structures at height. The unique nature of these incidents creates "bottom-up" scenarios where rescuers must physically overcome heights to access and rescue the patient. This class expands on previously learned rope rescue skills, and introduces students to tower climbing, fall protection, radiofrequency hazards, suspension trauma, tower-based and ground-based rescue tactics, and more.
The class is completed in two separate steps. First, the student completes the cognitive portion of the program online from the comfort of their own home or workplace. Upon successful completion of the online component, the student will then participate in one day of practical skills training.
Please note: We recommend using the most recent version of Google Chrome or Mozilla Firefox to complete this online class.

Course Length: 16 hours (including practical skills)

Practical Skills Training:
Practical skills sessions are invoiced separately. Students must bring their own class III rescue harness, rescue helmet, rope gloves, and safety glasses to their practical skills session.
The program is designed for private or small group practical skills sessions so that each student is physically and mentally challenged and can't just hide in the background.
Standard:

This program is based on NFPA 1006 Standard for Technical Rescue Personnel Professional Qualifications (2021 edition) for the Tower Rescue Operations level.
Pre-Requisite:

Students must be at least 18 years old and have previously completed Rope Rescue Operations (minimum 16 hours) through Elder Technical Rescue Services LLC or another approved training provider.
Certificates:

Elder Technical Rescue Services LLC will issue certificates of completion to students successfully completing the program.