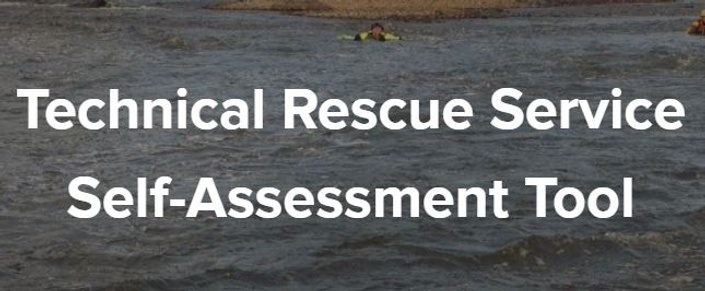 Technical Rescue Service Self-Assessment Tool
The Self-Assessment Tool will help your team improve the level of service it provides to the community.
Download the Self-Assessment Tool
Is your technical rescue service following the requirements spelled out in NFPA 2500 (1670)? Our Technical Rescue Service Self-Assessment Tool is designed to help you determine your organization's level of compliance with NFPA 2500 (1670) and ultimately improve the level of service you provide to your community.
The tool is split up into four categories:

Hazard and Risk Assessment
Standard Operating Procedures (SOPs)
Training
Operational and Personal Protective Equipment (PPE)
After completing the self-assessment, you will have identified the areas of your organization that need the most improvement. With that knowledge, as well as with other information provided in the tool, you will be able to develop an improvement plan for your organization.
You also have the option of purchasing additional consulting services with your Self-Assessment Tool download to ensure you get the most out of the tool as possible.
Frequently Asked Questions
What is NFPA 2500?
NFPA 2500 is the Standard for Operations and Training for Technical Search and Rescue Incidents and Life Safety Rope and Equipment for Emergency Services. The first and current version of the standard was published in 2022. The standard combined three previous standards into one (NFPA 1670, 1983, and 1858). The Self-Assessment Tool is largely based on the NFPA 1670 section of the document.
Does my organization have to provide a specific level of service for this to work?
No! We encourage organizations that provide Awareness, Operations, and/or Technician level services to complete the self-assessment. NFPA 2500 applies to all sorts of organizations that respond to all kinds of technical search and rescue incidents.
What is included with the consulting services?
If you purchase the Self-Assessment Tool with the consulting services option included, we will schedule two 1-hour Zoom sessions with you. The first session will be scheduled prior to you completing the Self-Assessment Tool and will consist of an overview of the tool and how to best complete the assessment. The second Zoom session will be conducted after you finish the tool and will consist of helping you develop an improvement plan for your organization.
Self-assessing is great, but can you perform an external independent assessment?
Yes! We would be more than happy to come out and perform a neutral, external assessment of your technical rescue service. We can look at the administrative and/or operational side of your organization. Contact us so that we can discuss your needs.
Do I need any specific software to view or use the Self-Assessment Tool?
The Self-Assessment Tool is a fillable PDF document. We recommend using Adobe Acrobat Reader to view and utilize the tool on your computer. Acrobat Reader is free software and there is a link to download it once you purchase and login to your Self-Assessment Tool portal.
Download the Self-Assessment Tool