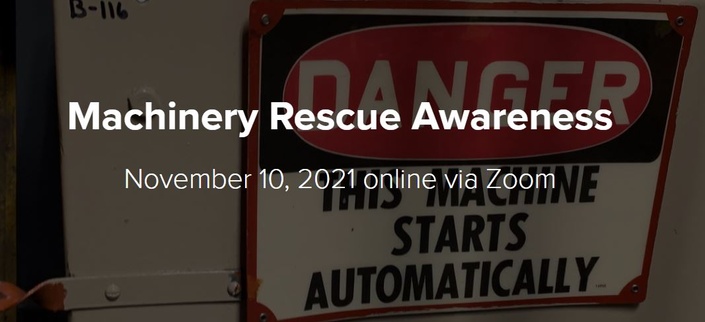 Machinery Rescue Awareness (Open Enrollment)
November 10, 2021 online via Zoom
Click Here to Register Online through Event Brite
Description:

This class teaches emergency responders how to perform a size-up of machinery rescue incidents, so a safe and effective initial response can be implemented. Students will implement scene management strategies and learn how to recognize and mitigate hazards associated with various types of machinery. Students will discuss machinery components, terminology, lockout/tagout, and medical considerations. This class also includes discussion of elevators and response procedures for the most common machinery rescue call – the stalled elevator.

Class Details:
Class will run from 7:00pm - 9:30pm online via Zoom. When you register for the class through Event Brite, you will receive a confirmation email that includes the link to login into the class.
Certificates of Continuing Education will be issued to all participants.
Price: $15

Pre-Requisite:
The course material assumes the student is a member of an emergency services agency and familiar with the incident command system.
PA DOH EMS Con-Ed: 2.5 hours (1.0 clinical)
Click Here to Register Online through Event Brite