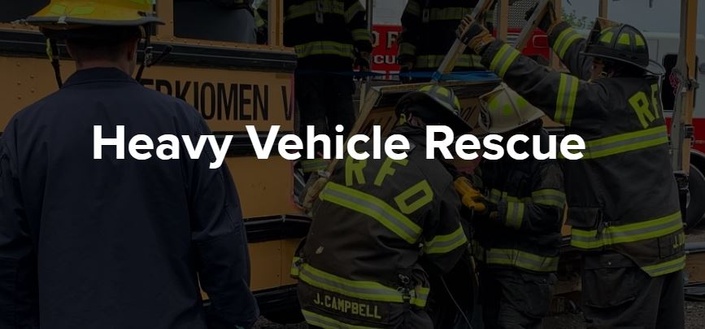 Heavy Vehicle Rescue Awareness and Operations
Learn operations level heavy vehicle rescue techniques based on NFPA 1006.
Description:
Heavy vehicles include highway, construction, off-road, or mass transit vehicles that pose challenges for rescuers due to their size, weight, construction, occupancy, and other unique considerations. These programs will introduce first responders to heavy vehicle rescue at the awareness and operations levels, focusing on school buses and semi-tractor trailers.
Hands-on evolutions in the operations level program will include stabilization, gaining access, disentanglement, and extrication of patients from a real heavy vehicle.
Note: Heavy Vehicle Rescue Awareness and Heavy Vehicle Rescue Operations can be offered as two separate classes.
Course Length: 4 hours (Awareness); 8 hours (Operations)

Pre-Requisite: Previous Common Passenger Vehicle Rescue Technician Level training (or equivalent).

Certificates:

Electronic certificates of continuing education will be generated for all students who participate in and successfully complete course requirements.
PA DOH EMS Con-Ed: 3.5 hours (0.50 clinical) for Awareness; 6.0 hours (1.0 clinical) for Operations

Schedule a Class:

Please contact us to discuss setting up a class for your agency.