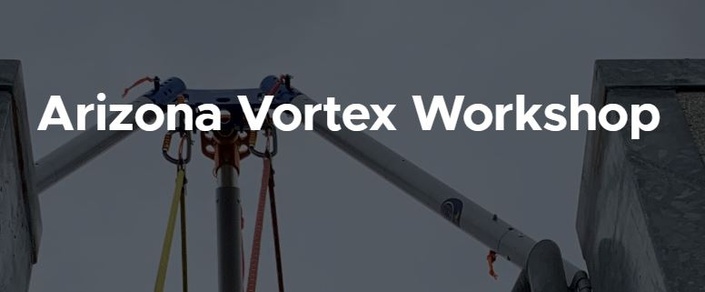 Rope Rescue Workshop: Arizona Vortex (Open Enrollment)
September 24, 2023 in West Chester, PA
Description:
The Arizona Vortex is a portable, artificial high directional (AHD) that can be rigged in a wide variety of ways in the urban, industrial, and wilderness environments. The ability to rig rope rescue systems using an AHD is quickly becoming the standard of care for technical rescue professionals. This one-day workshop is for rope rescuers with at least operations-level training under their belts, and will teach them how to safely utilize the Arizona Vortex in commonly encountered scenarios in urban and industrial settings.
Class Details:

Class will be held on September 24, 2023 at the West Chester Fire Department Training Center (351 Snyder Avenue, West Chester, PA 19381). Class will be held from 8:00am - 4:00pm.

Students must bring their own class III harness, rescue helmet, rope gloves, and safety glasses to class. If you are unable to to bring any of this equipment, please contact us.

Price: $200

Refunds: Please note that due to the nature of this class, refunds can only be issued for withdrawals with at least 7 days notice. If the class is cancelled at any time, you will receive a full refund.

Pre-Requisite:
Students must be at least 18 years old and have previously completed Rope Rescue Operations (minimum 16 hours) through Elder Technical Rescue Services LLC or another approved training provider.