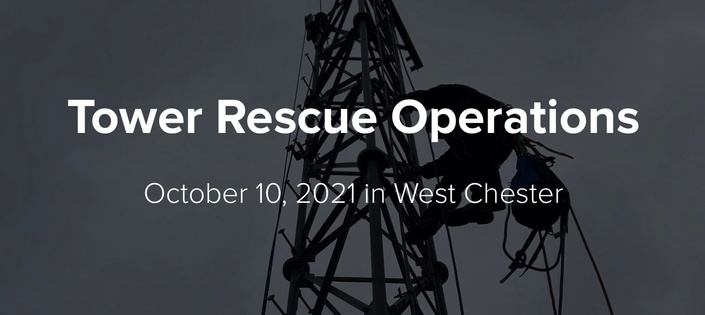 Tower Rescue Operations - October (Open Enrollment)
October 10, 2021 in West Chester
Click Here to Register Online through Event Brite
Description:

Tower rescue incidents include rescuing individuals from cellular, transmission, and other structures at height. The unique nature of these incidents creates "bottom-up" scenarios where rescuers must physically overcome heights to access and rescue the patient. This class expands on previously learned rope rescue skills, and introduces students to tower climbing, fall protection, radiofrequency hazards, suspension trauma, tower-based and ground-based rescue tactics, and more.
This is a blended learning course and students are required to complete online class material prior to October 10. Students will earn the Tower Rescue Operations (16 hours) certificate.
Please note: The online component should be completed in Google Chrome or Microsoft Edge.

Class Details:
Class will run from 8:00am to 4:00pm at the West Chester Fire Department Training Center (351 Snyder Avenue, West Chester, PA 19381).
Students must bring their own class III rescue harness, rescue helmet, rope gloves, and safety glasses to class. If you are unable to bring any of this equipment, please email us.
Price: $250

Pre-Requisite:
Previous rope rescue operations level training. Copies of certificate(s) are required.
PA DOH EMS Con-Ed: 9.00 hours (3.00 clinical)

Existing Students:
Please note that this open enrollment registration includes access to the online material. If you have already enrolled in the online material and would like to participate in practical skills training on October 10, please send us an email.
Click Here to Register Online through Event Brite