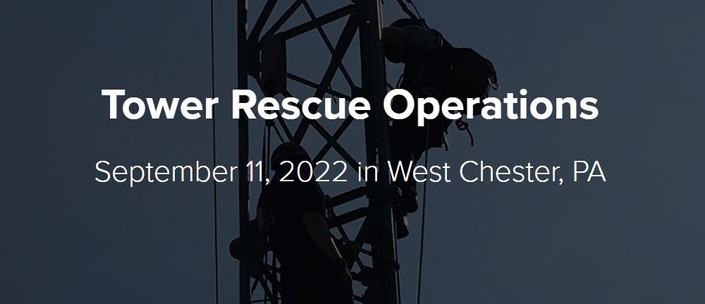 Tower Rescue Operations (Open Enrollment)
September 11, 2022 in West Chester, PA
A portion of the proceeds from this class will be donated to Tuesday's Children.

Description:

Tower rescue incidents include rescuing individuals from cellular, transmission, and other structures at height. The unique nature of these incidents creates "bottom-up" scenarios where rescuers must physically overcome heights to access and rescue the patient. This class expands on previously learned rope rescue skills, and introduces students to tower climbing, fall protection, radiofrequency hazards, suspension trauma, tower-based and ground-based rescue tactics, and more.
The class is completed in two separate steps. First, the student completes the cognitive portion of the program online from the comfort of their own home or workplace. Upon successful completion of the online component, the student will then participate in one day of practical skills training on September 11, 2022.
Class Details:
Class will run from 8:00am - 4:00pm on September 11, 2022 at the West Chester Fire Department Training Center (351 Snyder Avenue, West Chester, PA 19381). Students must have the online material completed prior to the practical skills session.
Students must bring their own class III harness, rescue helmet, rope gloves, and safety glasses to class. If you are unable to to bring any of this equipment, please contact us.
Price: $250

Note: This price includes the cost of the online material. If you have already enrolled in the online material and would like to attend this open enrollment practical session, please contact us before registering.
Pre-Requisite:
Students must have previously completed Rope Rescue Operations level training through Elder Technical Rescue Services, LLC or another approved training provider.
PA DOH EMS Con-Ed: 9.0 hours (3.0 clinical)