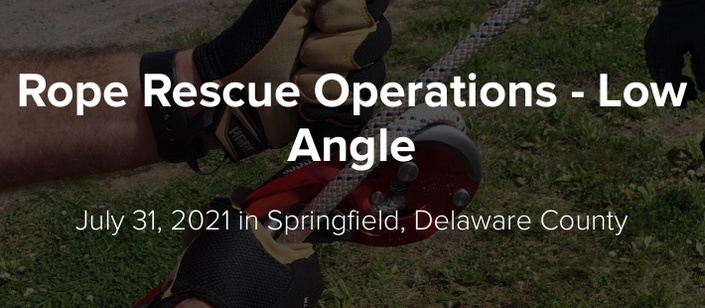 Rope Rescue Operations - Low Angle (Open Enrollment)
July 31, 2021 in Springfield, Delaware County
Click Here to Register Online through Event Brite
Description:

This 16-hour program teaches the fundamentals of rope rescue at the operations level based on NFPA 1006 Standard for Technical Rescue Personnel Professional Qualifications (2021 edition). Students will learn about rope characteristics, knots, anchors, belays, mechanical advantage systems, patient packaging techniques, and other rope rescue systems and concepts. Students will utilize these skills in low angle scenario-based evolutions. The skills learned in this class are truly the "bread and butter" of rope rescue.
This is a blended learning course and students are required to complete online class material prior to July 31. Students will earn the Rope Rescue Operations - Low Angle (16 hours) certificate.
Please note: The online component should be completed in Google Chrome or Microsoft Edge.

Class Details:
Class will run from 8:00am to 4:00pm at Smedley Park (20 Papermill Road, Springfield, PA 19064). We will email you more details regarding our precise meeting location.
Students must bring their own class III rescue harness, rescue helmet, rope gloves, and safety glasses to class. If you are unable to bring any of this equipment, please email us.
Price: $185

Pre-Requisite:
The course material assumes the student is a member of an emergency services agency and familiar with the incident command system.
PA DOH EMS Con-Ed: 12.25 hours (2.25 clinical)

Existing Students:
Please note that this open enrollment registration includes access to the online material. If you have already enrolled in the online material and would like to participate in practical skills training on July 31, please send us an email.
Click Here to Register Online through Event Brite