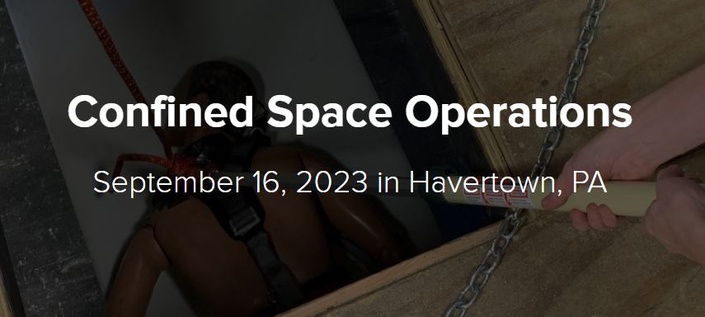 Confined Space Rescue Operations (Open Enrollment)
September 16, 2023 in Havertown, PA
Description:
This class teaches fundamental confined space rescue principles and skills. Students will learn about OSHA regulations, NFPA standards, confined space hazards, atmospheric monitoring, patient assessment & packaging, extrication techniques, and more. Hands-on evolutions in simulated confined spaces will incorporate both horizontal and vertical rescue techniques.
Class Details:

The class is completed in multiple steps due to being a blended learning program. Students will complete the online Confined Space Rescue Operations lessons prior to the practical skills training being held on September 16, 2023.
Class will run from 8:00am - 4:00pm at the Manoa Fire Company RIT Training Center located at 115 S. Eagle Road, Havertown, PA 19083.
Students must bring their own class III harness, rescue helmet, rope gloves, and safety glasses to class. If you are unable to to bring any of this equipment, please contact us.

Price: $275

Note: This price includes the cost of the online material. If you have already enrolled in the online material and would like to attend this open enrollment practical session, please contact us before registering.
Refunds: Please note that due to the nature of this class, refunds can only be issued for withdrawals with at least 7 days notice. If the class is cancelled at any time, you will be refunded less the cost of the online material (you will retain access to the online material).

Pre-Requisite:
Students must be at least 18 years old and have previously completed Rope Rescue Operations (minimum 16 hours) through Elder Technical Rescue Services LLC or another approved training provider.