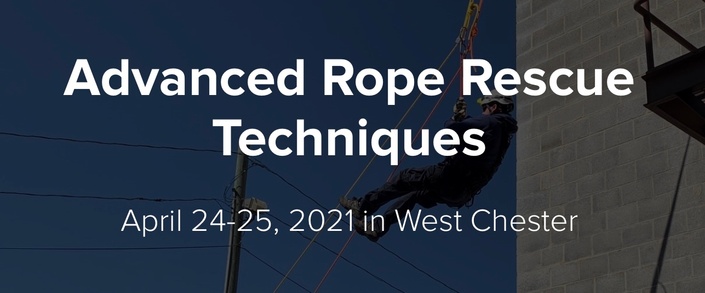 Advanced Rope Rescue Techniques (Open Enrollment)
April 24-25, 2021 in West Chester
Click Here to Register Online through Event Brite
Description:

The Advanced Rope Rescue Techniques course is designed to expand upon the students' existing operations level skills with additional tactics, techniques, and procedures. Topics of this class will focus on personal rope skills such as ascending and descending rope to gain access to patients, performing patient care while tending to a patient in a litter, and rigging systems designed to maneuver patients horizontally.
This class is designed for a small group, so seats are limited!
Class Details:
Class will run from 8:00am to 4:00pm each day at the West Chester Fire Department Training Center (351 Snyder Avenue, West Chester, PA 19381).
Students must bring their own class III rescue harness, rescue helmet, rope gloves, and safety glasses to class. If you are unable to bring any of this equipment, please email us.
Price: $375

Pre-Requisite:
Previous rope rescue operations level training. Copies of certificate(s) are required.
PA DOH EMS Con-Ed: 12.00 hours (2.00 clinical)
Click Here to Register Online through Event Brite