There are a bunch of descent control devices (DCDs) on the market, and each one has its own set of advantages and disadvantages. Which one is your favorite? Check out my thoughts below.
The Most Fun

For me, the brake bar rack is still a lot of fun. I believe it was the first DCD I learned to rappel with, so there is certainly some sentimental value there. There is also something very satisfying about being able to watch the rope run through the bars and feeling how the friction affects the lowering operation. I do think the rack still has a place in high angle rescue if/when your other DCD is inoperable, but it is no longer a first choice DCD for me in the real world because it lacks some of the safety features found in the other devices.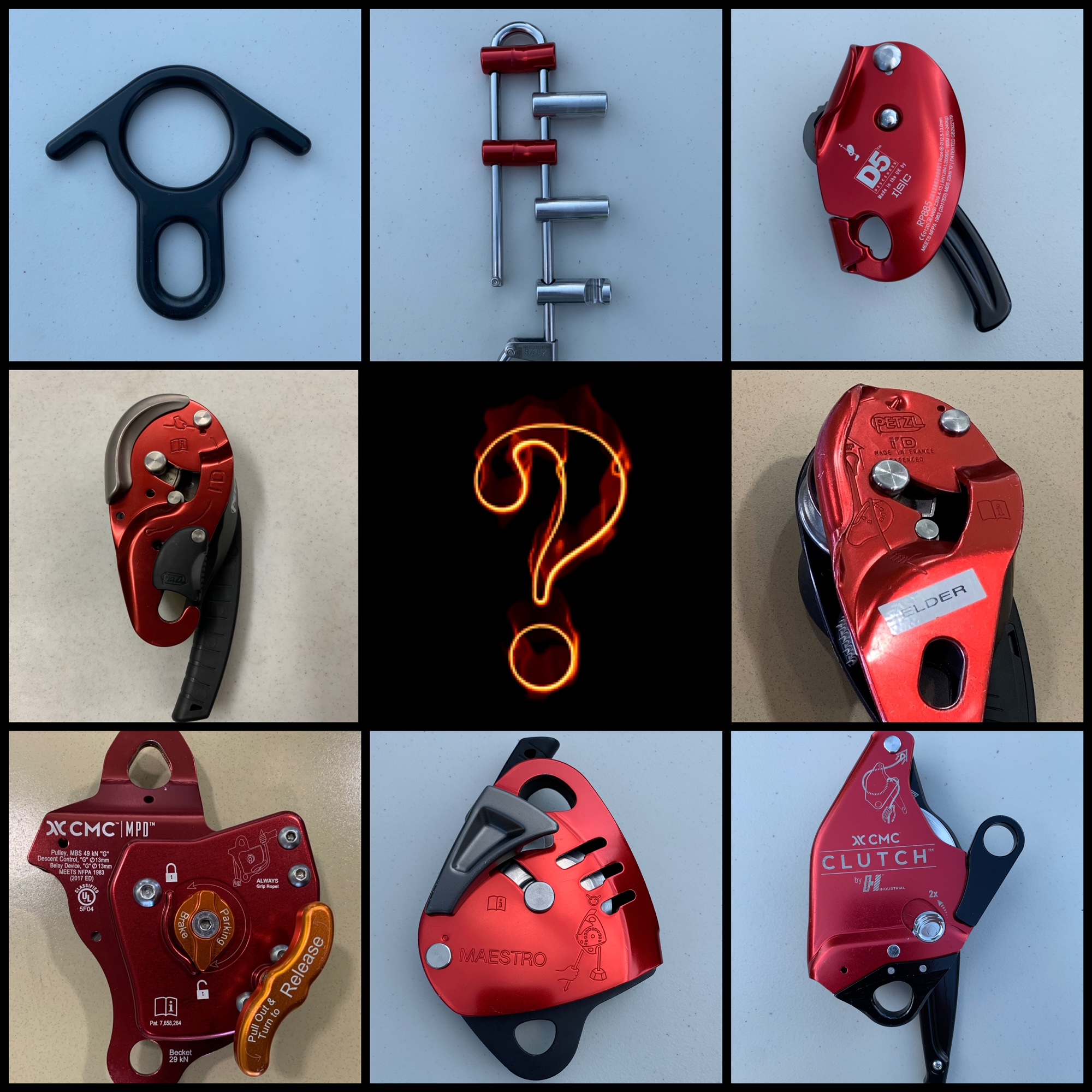 The Best for Operations Level Responders

I generally recommend the Petzl ID for rope rescuers that are functioning at the operations level. Depending on what model you have, there are some subtle differences. However, both models have the anti-panic feature and the automatic ratchet cam when the rescuer releases the handle. The other major benefit that the Petzl ID has that other devices do not have is the anti-error catch. The Petzl ID's biggest downside is the lack of a pulley sheave. It is not the most ideal DCD if you will need to convert to a raising system and haul a load a considerable distance.
The Best for Technician Level Responders

The CMC Clutch has taken the hauling efficiency found in the CMC MPD and combined it with the ergonomics of the Petzl ID (and the ISC D5). This means it is a fantastic device for lowering from a fixed anchor, hauling, as well as rappelling. The main reason I categorize it as being the best for technician level responders is because it does not have an anti-error catch. One can argue that no matter what DCD you use, you have to train to stay proficient with it. While I agree and that is absolutely correct, I do like the anti-error catch in the Petzl ID as an extra layer of safety for rescuers who may not get a chance to train as often as they should.
What is your favorite DCD? There are obviously others that aren't pictured or discussed in this blog post. Follow us on Facebook, LinkedIn, Instagram, or Twitter and let us know your thoughts!
If you want a chance to train with some of these DCDs, check out our Rope Rescue Operations - Blended Learning program. The course can be taken by individuals or set up for a group.
Bill Elder
Owner
Elder Technical Rescue Services, LLC