Do firefighters perform elevator rescues everyday without securing the power to the elevator? Unfortunately, the answer to that question is yes. However, it is an incredibly dangerous practice. When first responders decide they must intervene at an elevator rescue incident, it is imperative that they always secure the power to the involved elevator and perform lockout/tagout.
One reason why is the jumper. Jumpers are devices that elevator professionals use to bypass safety switches when they perform maintenance. These safety switches would normally cause the elevator to not move. For example, under normal circumstances if a hoistway door is open, the safety switch will activate, and the elevator car will stop moving. An elevator professional can bypass that switch in order to work on the elevator with the hoistway door open. Elevator professionals are required to remove the jumpers when their work is done. However, there have been cases where jumpers were left in place, sometimes accidentally and sometimes intentionally by negligent workers.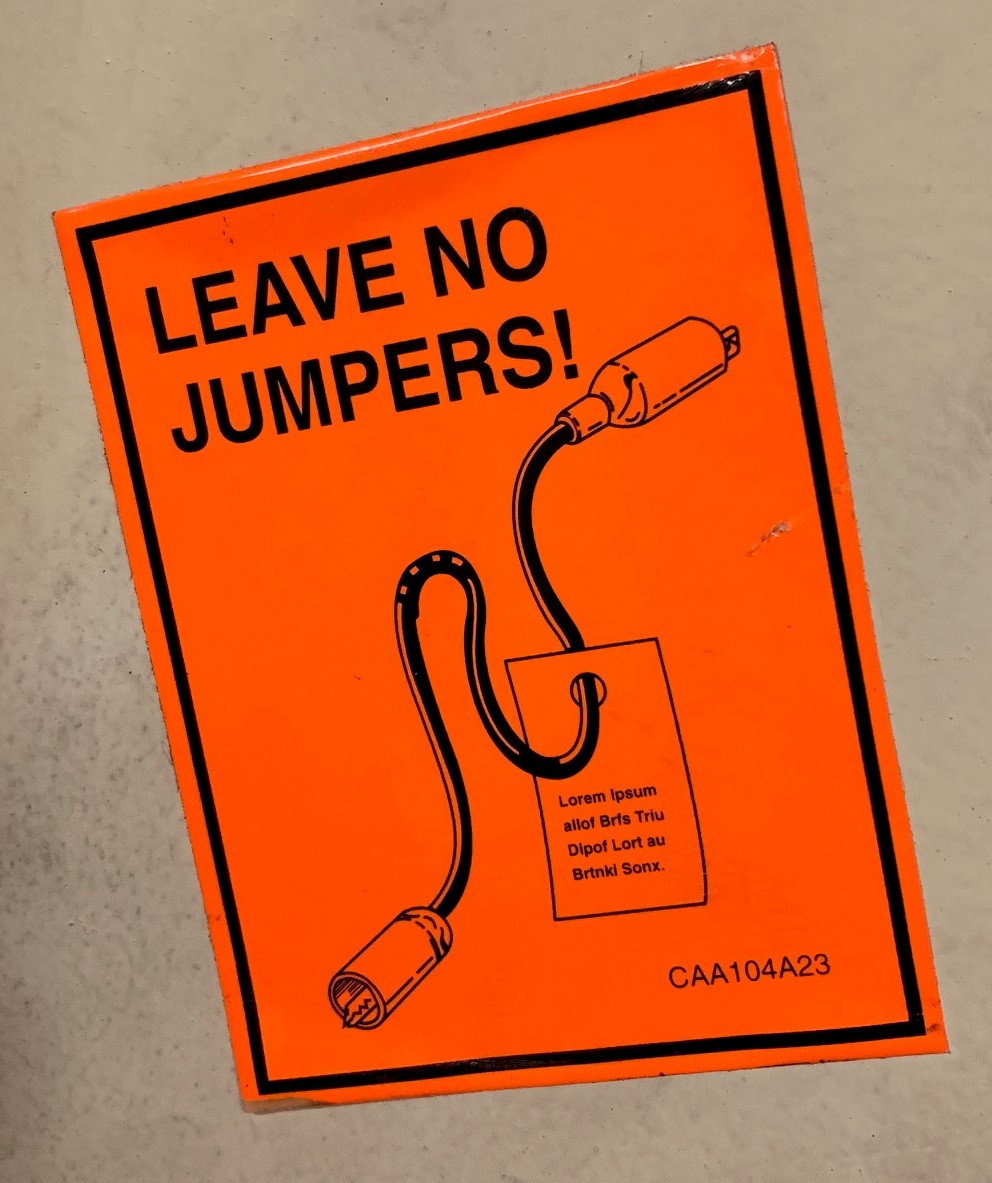 The picture above was taken on the inside of the door to an elevator machine room. It serves as a reminder for the elevator mechanics to remove any jumpers they were using.
Firefighters responding to an elevator rescue will not know if there are any jumpers installed in the system. The ONLY way to overcome any jumpers that may or may not be left in the system is to secure the power to the elevator and perform lockout/tagout. This step is critically important to ensure the safety of first responders and the victim(s) being removed from the elevator.
You can learn more about elevator emergencies in September when we bring Dragon Rescue Management, Inc. back to Southeastern PA. We will be hosting their "Intro to Elevator Emergencies" 2-hour lecture on Friday, September 17. If you have previously taken DRM's full Awareness Level class, you can also take "Elevator Emergency Management – Operations Level" on Saturday, September 18. Check out our Open Enrollment page for more information.
Bill Elder
Owner
Elder Technical Rescue Services, LLC