Confined space fatalities are often associated with atmospheric hazards and the "would-be rescuer syndrome." In this incident which occurred ten years ago, a public works employee and the firefighter who first attempted to rescue him were killed. This post is a summary of the NIOSH LODD Report.
The Incident
On September 6, 2010, a firefighter was killed when he entered a confined space to rescue a utility worker. The incident occurred in a sewer manhole right behind the firehouse. Several firefighters had been on-location while public works employees worked on a sewer problem.
After one of the public works employees entered the space and immediately became unconscious, one of the firefighters who was on-location entered the space to retrieve him prior to any atmospheric monitoring being performed. After making it halfway down the ladder, the firefighter also became unconscious and fell the rest of the way into the confined space. At that point, atmospheric monitoring was conducted, and a technical rescue team was requested to assist. Witnesses stated the oxygen readings in the space were between 11 – 14%. Both the public works employee and the firefighter died from asphyxia and exposure to sewer gases.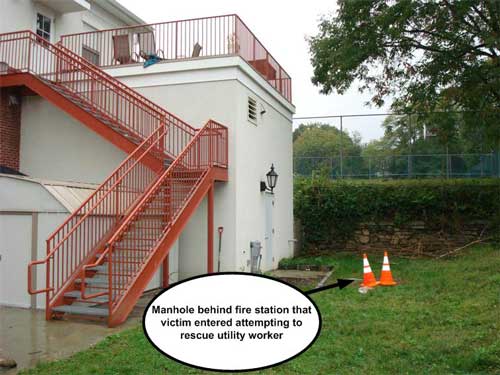 Source: NIOSH

Lessons Learned
The most important lesson learned from this incident is that first responders must be trained to a minimum of the awareness level in confined space rescue. It is critically important that first responders understand what confined spaces are, recognize the hazards that exist in them, and know how to request additional resources to the scene of these incidents.
Other lessons learned include ensuring your agency has a standard operating guideline (SOG) for responding to confined space rescue incidents. Even if your agency is only going to provide an awareness level response, developing a response SOG will still help ensure your organization's members know what actions to take (and not take) at these types of emergencies. If you are going to respond at the operations or technician levels, SOGs are still very important because they define your organization's expectations on how to safely operate at these incidents.
Furthermore, SOGs and real-world responses to these types of emergencies must include the use of the incident management system and assigning a safety officer that is knowledgeable in confined space rescue. Another very important position to assign at confined space rescue incidents is the "Attendant." This individual prevents unauthorized entry into the space. Nobody should enter the confined space unless authorized by the rescue supervisor and/or incident commander!
Bill Elder
Owner
Elder Technical Rescue Services, LLC